The VDL-HTS Rotary Valve is typically used as a rotary air lock in high vacuum installations as well as as a rotary feeder for silos, hoppers, screw conveyors, weighers, dryers and coolers. Suitable as a dosing lock under silos and bunkers for pressure differentials up to max. 0.5 bar and products with normal flow characteristics.
Whether your company is active in animal feed, food, recycling, paper, plastics processing or any other industry, there is a good chance of finding a VDL-HTS at work somewhere in your production line. VDL-HTS valves are the workhorses in our valve range. Thanks to our wide range of rotor designs, conversions and options, it is almost impossible not to find the right valve for your situation. The VDL HTS is used in pneumatic transport for up to a 0.4 bar differential pressure. But it also proves a powerful dosing valve under silos and bunkers even with abrasive and challenging products, thanks to its heavy rotor construction and external bearing.
Sizes: 10" (250mm), 14" (350mm) & 18" (450mm)
Certified to withstand explosive pressures up to 2.5 bar (39.26 PSI)
8 vane rotor with options for steel or stainless steel tips
Cast iron housing with flanged inlet/outlet
Direct drive motor with flexible coupling and gearbox
Options for variable speed controller, flange gaskets, isolation box, air purge seals, special plating such as chromium or nickel, stainless steel construction and quick disassembly are available.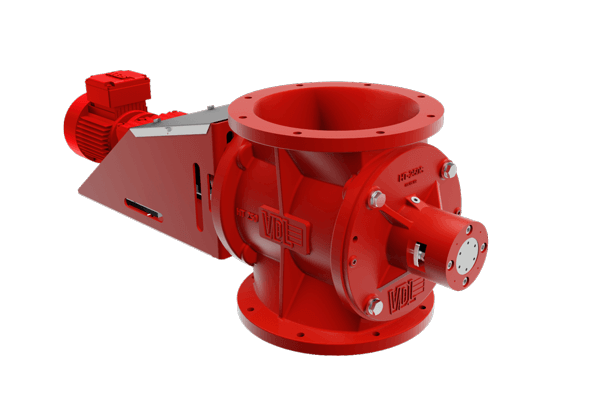 Get More Information on This Product
---
Click on image to view gallery